Boeing reports $1.7 billion loss - to ax 16,000 jobs
Boeing released its 2020 Q1 earnings today, and the adjusted losses amounted to $1.7 billion and a staggering negative cash flow of $4.7 billion. Revenue also fell 26% to $16.91 billion, which fell short of analysts forecasts of $17.17 billion. Boeing says that they plan to ax 16,000 jobs, or 10% of their total workforce, and cut back on the production of widebody jets as the COVID-19 pandemic has crippled demand. In response to the earnings release and workforce reduction, Boeing's stock closed today up 5.86% at $139.00 per share, which is still a far-cry from pre-pandemic prices upwards of $340 a share.
Boeing's YTD price per share
The 737MAX, which has been the primary driver of Boeing's headaches for the past year, was scheduled to gain the necessary regulatory approvals to resume deliveries in mid-2020. But Boeing CEO Dave Calhoun said that deliveries would restart more likely in Q3, as the timing will be determined by regulators.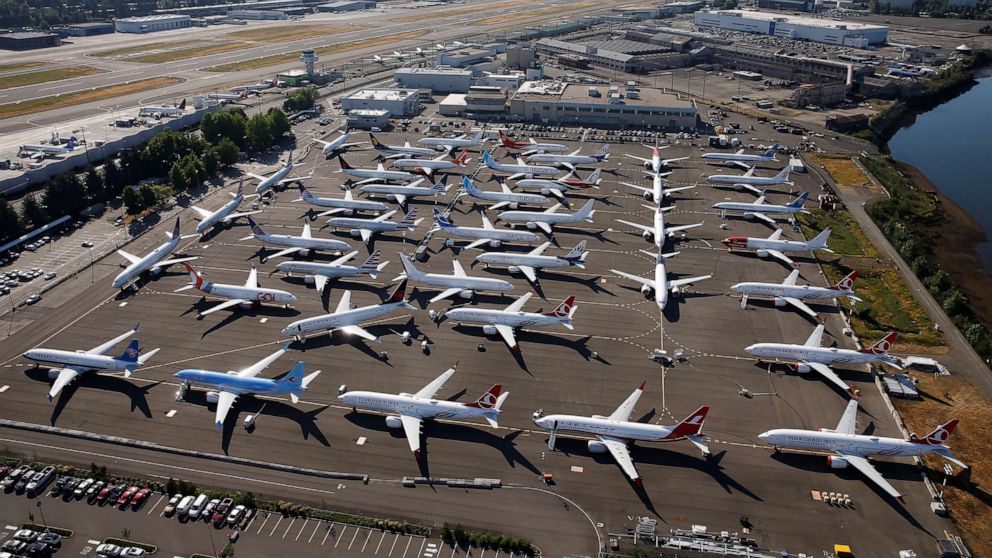 Grounded 737MAX's at Boeing's production factory in Everette, WA
Like the airline and travel industry as a whole, Boeing has been on the frontlines among the companies hit the hardest by the pandemic. "The demand for commercial airline travel has fallen off a cliff," said Calhoun. "The pandemic is also delivering a body blow to our business." The 10% reduction in workforce will come in the form of buyouts, natural attrition, and layoffs. "We will be a smaller company for a while," Calhoun added.
Boeing's downsizing plans call for reducing the 787 Dreamliner production rate from the current 14 jets per month to 10 per month in 2020, and seven per month in 2022. Combined production of the 777 and 777X, which was designed to efficiently replace high capacity 4-engine guzzlers like the 747 and the A380, would be reduced from the current five jets per month to three per month in 2021. But for Q1, Boeing's net orders have stood at negative 307:
Quick thoughts
It's unfortunately no surprise to see Boeing's grim earnings figures for Q1. The COVID-19 pandemic has created the "perfect storm" for the manufacturer as it was already grappling with the 737MAX crisis and delays in the 777X program, which may now be in further limbo as their customers cut back more routes and capacity due to the collapse in travel demand. Calhoun definitely isn't joking when he stated that they'll be a much smaller company from here on out, and it could take many years to recover - assuming that they do (fingers crossed).
From all of us at Flying for Fitness, please stay healthy during this trying time. We hope you enjoyed this post. Please consider visiting one of our sponsors by clicking on the advertisements. Our sponsors pay us for customer visits and help us to keep the lights on. Thanks!