Understanding United new's Premier Qualifying requirements for 2020
United Airlines is completely revamping its Premier qualifying requirements starting January 1, 2020. Currently, you can qualify with a combination of Premier Qualifying Miles (PQM) or Premier Qualifying Segments (PQS) AND Premier Qualifying Dollars (PQD). But effective the next calendar year, qualification will be based solely on 2 categories: Premier Qualifying Flights (PQF) and Premier Qualifying Points (PQP). Confusing? Surprisingly not, so let's take a look at the new qualification requirements.

What are PQF and PQP?
United is defining PQF simply as the number of flight segments flown, four of which need to be flown on United or United Express. Nearly all flights with their Star Alliance and partner carriers also count towards PQF.
PQP, though similar to PQD, are a bit more complex. Like PQD, you earn 1 PQP for every $1 spent towards the following on flights operated by United or United Express:
Base fare plus surcharges
Economy Plus upgrades
Preferred seating purchases
But now, the following also count towards PQP:
MileagePlus Upgrade Award co-pays
Paid upgrades
Flights ticketed and operated by Star Alliance partners
Where it gets interesting is PQP earned on partner carriers, which is actually an improvement over their current system where PQDs can only be earned on tickets issued by United:
Equal to award miles earned divided by five if traveling on a preferred partner
Equal to award miles earned divided by six if traveling on another partner
Remember that United issues award miles calculated off the base fare plus surcharges, which is 5X per $1 for general members. Premier members are awarded additional bonus award miles, but only the 5X base earnings per $1 will be tallied in their PQP calculation for partner carriers. So let's say you spent $1,000 on a base fare plus surcharges with ANA and earned 5,000 award miles; you then divide that by 5 and you'd end up with 1,000 PQP. Sounds fair and nearly the same as PQP earned by flying with United.
New qualification requirement thresholds
Qualification starting in 2020 can be either based on a meeting a combination of PQF and PQP OR solely on PQP, which essentially highlights United's obvious obsession of rewarding only their top spenders.

As you can see, you'd need to spend an absolute minimum of $4,000 to even qualify for bottom-tier Silver, and that's assuming you hit 12 PQF. Looking at the comparison from 2019 and prior, the general spending requirements were substantially lower: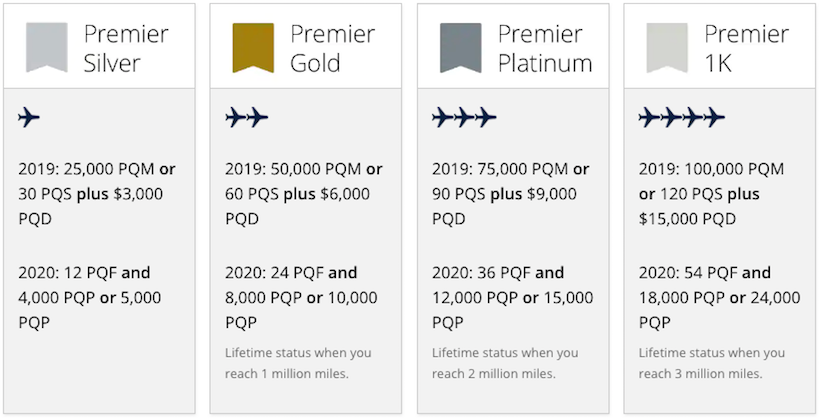 Now if your company buys you refundable Y fares, this could be good news for you since you probably won't have that much of a problem meeting the PQP requirements. But for the most of us who purchase the cheapest fares, meeting PQPs will obviously be difficult.
United co-branded credit card waivers?
United co-branded credit cards like the United Explorer have long waived the PQD requirement if you spent $25k+ on your card. That's obviously no longer going to be the case as status is based mostly on revenue now. Instead, the following cardholders will earn some PQD based on their spending:
The United Explorer Business Card, United Club Card, United Explorer Business Card, United Club Business Card, United MileagePlus Awards Card, United MileagePlus Card, and United MileagePlus Business Card, will earn 500 PQP for every $12,000 in spending, up to a maximum of 1,000 PQP in a calendar year, which can be applied up to Platinum status
The United MileagePlus Select Card and United MileagePlus Platinum Class Visa Card will earn 500 PQP for every $12,000 in spending, up to a maximum of 3,000 PQP in a calendar year, which can be applied up to 1K status
The United Presidential Plus Card and United Presidential Plus Business Card earn will earn 500 PQP for every $12,000 in spending, up to 10,000 PQPs in a calendar year, which can be applied up to 1K status
So unsurprisingly, PQP earnings based on credit card spending will be capped. It looks like you could earn Premier Gold with credit card spending alone on the Presidential Plus card IF you (or your company?) can muster $240,000 in spending...
How this may impact the Premier ranks
Now that distance flown literally has no bearing on Premier status, this will no doubt thin out the ranks a bit. Big spenders with refundable Y fares may benefit, but I would presume that the average business flyer would need to reach remarkably high just to hit mid-tier status. This is United's justification:
As the MileagePlus Premier program evolves, we want it to be relevant for all types of travelers. For this reason, distance will no longer be used for qualification in 2020, and members will instead qualify based on the value of tickets purchased and the number of flights taken. We're introducing these changes to align the way members qualify for status and to better deliver Premier benefits to our most loyal members.
If by "most loyal members" United means biggest spenders, then they're definitely on the right track. But high mileage flyers no longer equate to loyalty? Guess not...
Bottom line
United is about to become pretty much the only loyalty program on the planet that puts zero basis on your flying distance. So for those of us who liked those nice long-haul deals to Asia or Europe for <$500 several times a year, we'll pretty much be forever demoted to the ranks of the general member. If anything, United is making it blatantly clear that the top spenders are their most loyal customers, and you really can't fault them for this type of thinking as a publicly traded company. If you're on the edge or close to earning any type of elite status this year with United, you may want to push for it as it'll likely be harder to qualify for next year.