Say hello to United's new PointsPlus upgrade system, goodbye to RPUs and GPUs
United Airlines has long issued Regional Premier Upgrade (RPU) and Global Premier Upgrade (GPU) instruments to their Premier Platinum, 1K, and Global Services members on top of their complimentary Premier upgrades. RPUs can be used on all domestic and limited int'l flights without fare restrictions, whereas GPUs can be used on all flights, with fare restrictions on United's longer haul int'l flights. The earnings rates for the upgrade instruments are as follows:
Premier Platinum: 2 RPUs upon qualification
1K: 6 GPUs upon qualification, plus 2 for every additional 50,000 PQMs earned
Meet the new PointsPlus system
United just announced that starting December 4, 2019, all RPUs and GPUs will be replaced with their
new PlusPoints system
. Under the new system, PlusPoints will be issued to the following elites:
Premier Platinum: 40 upon qualification
1K: 280 upon qualification for a total of 320
For unused upgrade instruments, RPUs will be converted to 20 and GPUs to 40 PlusPoints effective December 4th, and the expiration dates will remain the same. Perhaps the biggest change is that PlusPoints can be used for upgrading any flight with no fare restrictions. For international long-haul flights, PlusPoints will cost the following: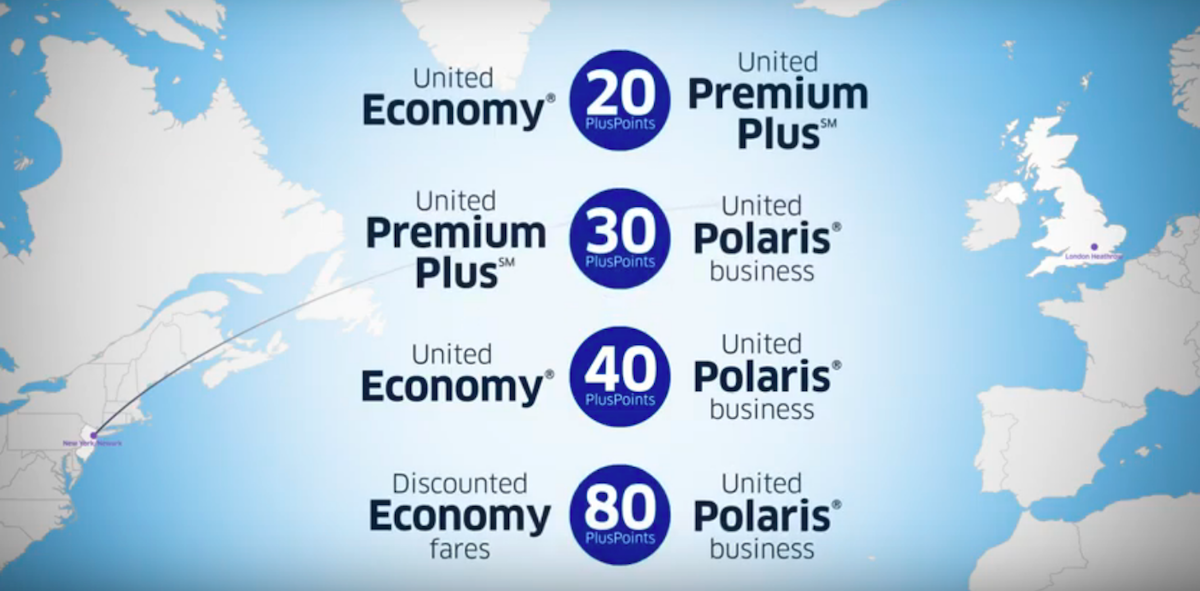 This appears to be a significant improvement for both elites as Platinums can now upgrade a long-haul int'l flight from economy to Polaris since it will cost 40 PointsPlus. In addition, 1Ks will have the equivalent of at least 8 GPUs (320/40 = 8), and PointsPlus can still be used on Lufthansa and ANA flights with the same previous restrictions. The option to upgrade discounted economy fares to Polaris is great as well since GPU upgrades from W+ fares was often a gamble for many 1Ks. United gives the following example of what 40 and 320 PointsPlus can be redeemed for:
Requesting upgrades with PointsPlus
Another improvement is that you only pay for the highest upgrade cost of your itinerary. So let's say you booked IAH-SFO-TPE in discounted United Economy and all your upgrades cleared to Polaris. You'd only be responsible for paying the upgrade cost for the longest segment (SFO-TPE for 80 PointsPlus), and not cumulatively for both IAH-SFO and SFO-TPE.
PointsPlus upgrades can be requested online. Another positive change is that PointsPlus won't be deducted from you account until they actually confirm. This would give members much greater flexibility and opportunities as they can request upgrades across the board for their bookings.
Redeem PointsPlus for ANA's new flagship "The Room" business class
New "Skip Waitlist" feature
Waitlisting for upgrades has become the norm for United elites. However, now United will give you the option to redeem additional PlusPoints to skip the waitlist and instantly confirm an upgrade. It remains to be seen how many additional PlusPoints will be required to skip the waitlist as it will depend on the itinerary. I presume that this won't be a cheap feature, but it could still work for some who are in "need" of instant upgrade confirmation.
Get an instant upgrade to Polaris . . . for (a lot?) of extra PointsPlus

Bottom line
This appears to be a surprisingly significant improvement in terms of upgrade usage and flexibility for Premier Platinums and 1Ks. It's difficult to find any negativity here, as there doesn't seem to be any catches (yet!) for this new system. There's always the fear that these PlusPoints, like miles, will be devalued in the future. But as it stands, this new positive feature will allow for more upgrades and opportunities for elites.