Deal alert: Business class to China for only $1,534 roundtrip
China Southern is currently having a great sale for business class flights between LAX and China for as little as $1,534 roundtrip. Eligible cities include Beijing, Shanghai, Shengyeng, Hangzhou, Nanjing, Qingdao, Jinan, and Zhengzhou, with Shanghai being the cheapest. China Southern flies nonstop from LAX to Shenyang and Guangzhou, so these flights will require a connection.
Here are the fare rules:
Outbound travel permitted Monday – Thursday
Must depart by October 4, or between October 16 – December 13, or December 25 – December 31
3 month maximum stay
Return travel not permitted September 27 – October 1 or January 1 – January 23
Must ticket by September 9 (though the fare may not last that long)
$100 fee to change or refund
To find the flights,
Skyscanner.com
would be your best option. China Southern, which recently exited the Skyteam alliance, is partially owned by American Airlines, and they have an earn and burn parternship with AA. So AA would be a good carrier to credit your miles to, although they don't yet count towards elite status.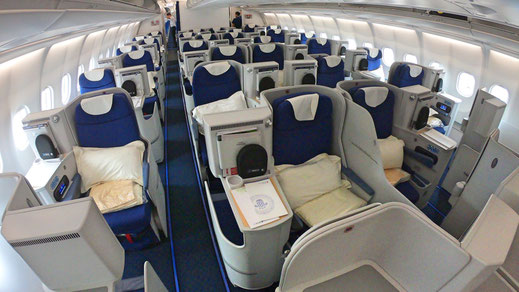 China Southern's staggered lieflat Thompson Vantage XL biz class product
China Southern is a 4-star Skytrax carrier and definitely one of the best of the many Chinese carriers, second to probably only 5-star carrier Hainan Airlines. They use the popular Thompson Vantage XL lieflat seats on their B777s and A380s that fly out of LAX. If you can find dates that work or if you were planning a trip to China, these are great biz class deals that probably won't last.
H/T: View from the Wing