AirBNB in New Zealand with gyms?
SFO-AKL Air New Zealand Business Premier
Queenstown Airport workout
Milford Sound
Review: Westland Recreation Center in Greymouth
Abel Tasman National Park
Hobbiton
Te Puia geothermal geysers
AirBNB gym
Air New Zealand compensation
Last week, I
posted on the value of booking hotels with adequate gyms
so that you can stay on track of your fitness goals even when traveling. Apart from hotels, many of us have become accustomed to AirBNB properties as they can provide better value with beefed up amenities like a kitchen, dining table, and washer/dryer. Having a kitchen allows you to cook your own meals on the road, which is typically cheaper than eating out and would prevent you from going after fast food and cheater meals. And we all know how good it is to have a clothes washer/dryer to clean up all our stinky laundry, especially after all that kayaking and hiking in New Zealand. But how about an AirBNB with a gym?
The thought of AirBNB's and gyms has never even crossed my mind. But when I was searching for lodging in the rural areas of New Zealand's North Island, where gyms and especially hotel gyms are a rarity, I decided to give AirBNB's a shot. Sure enough, under AirBNB's Stays search engine with the "More Filters" tab, there is the option to check "Gym" under the Facilities section.
So what exactly does AirBNB consider gyms? Well, that's up to the host, but if you do searches, you'll find that the results often include apartment properties, which makes sense since many apartment complexes have a fitness facility or swimming pool. You can also sometimes find photos of the gym on their AirBNB property page, or you can inquire about the gym facilities directly with the host.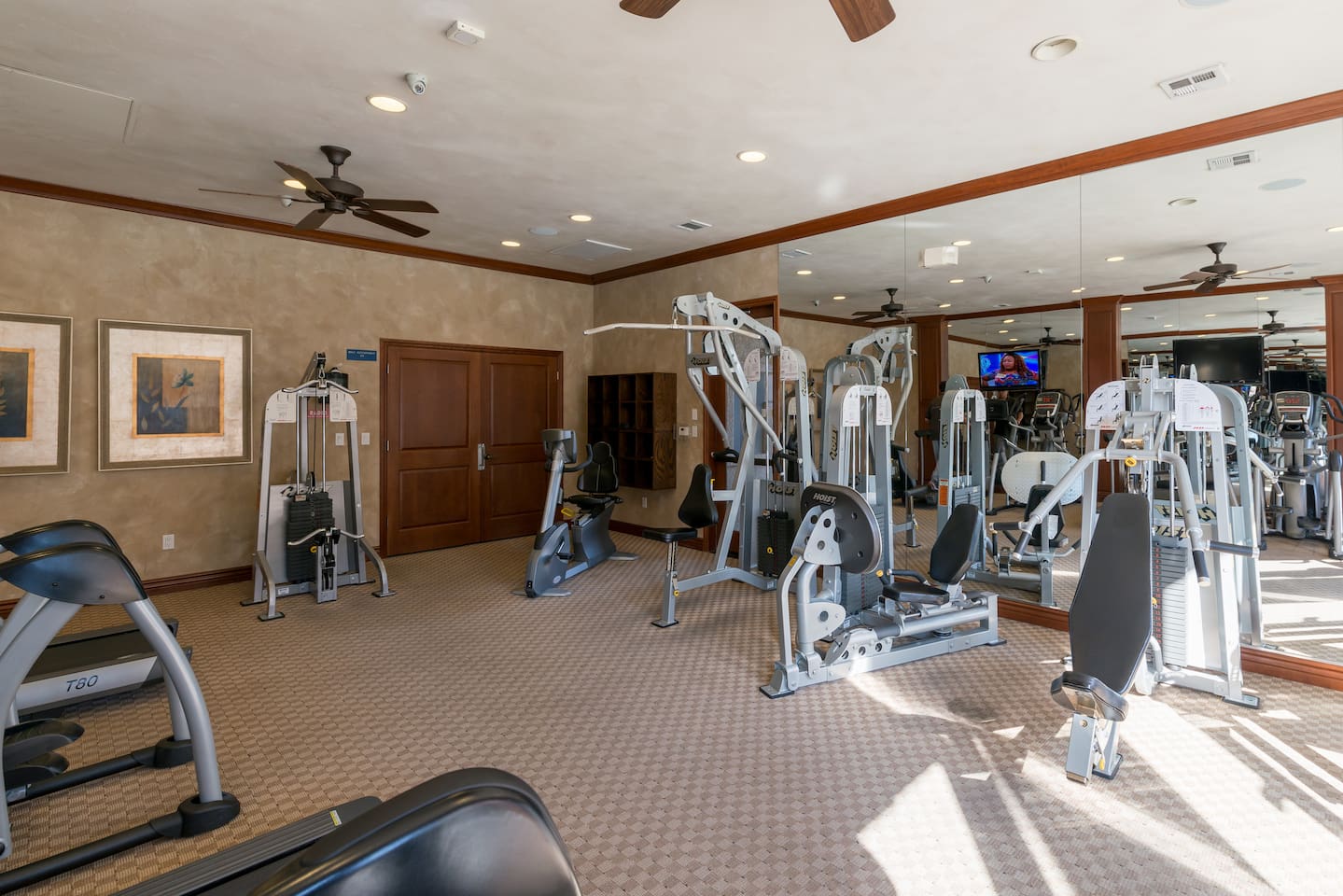 Basic AirBNB apartment complex gym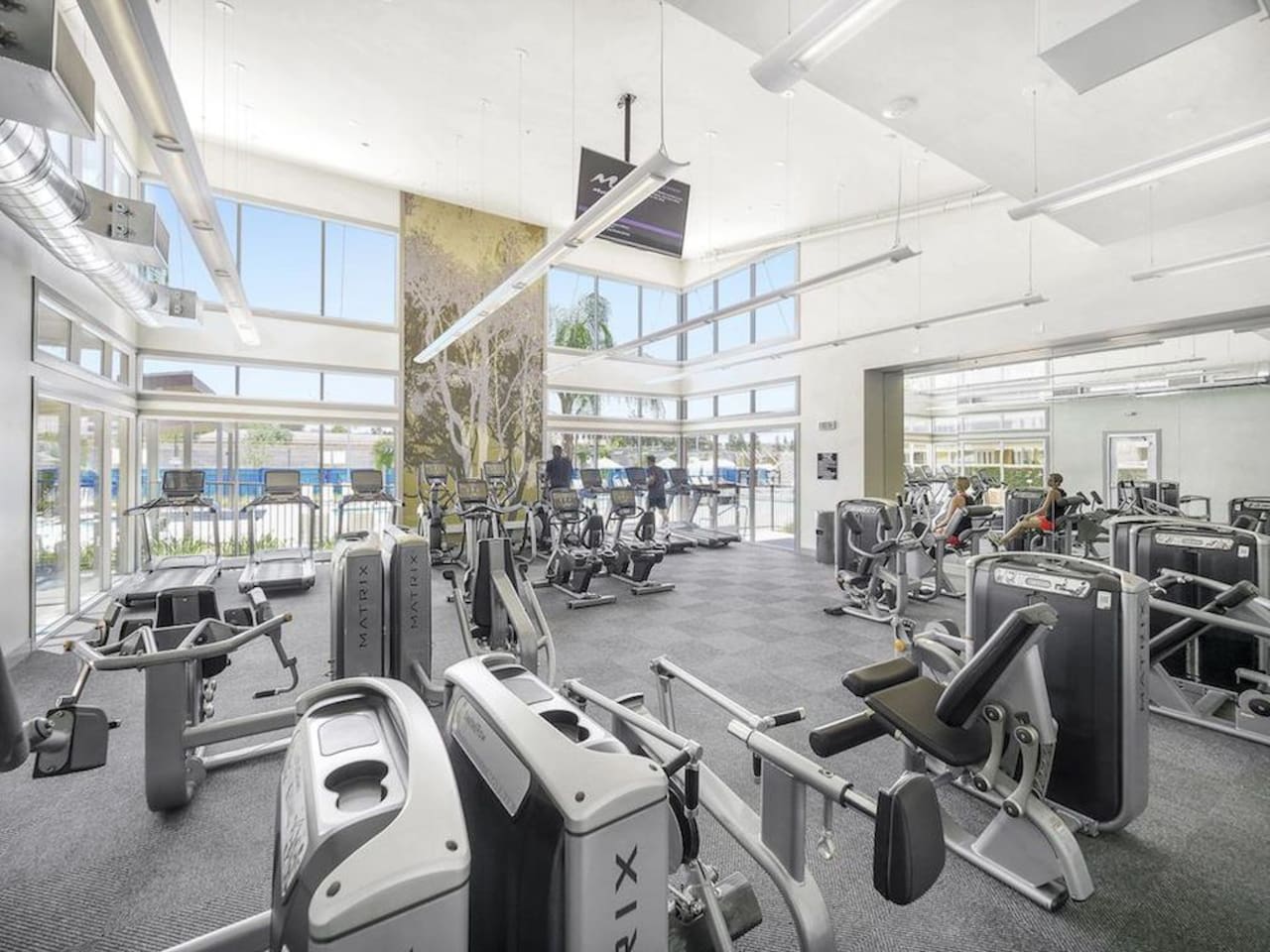 Pretty legit for an apartment complex gym (AirBNB apartment in San Jose, CA)

But not all AirBNB gyms are apartment complex centers, as some hosts will actually provide you with a free pass to a local gym nearby. Others, and here is where it gets interesting, will have gym equipment, such as free weights and cardio machines, in their actual house or garage.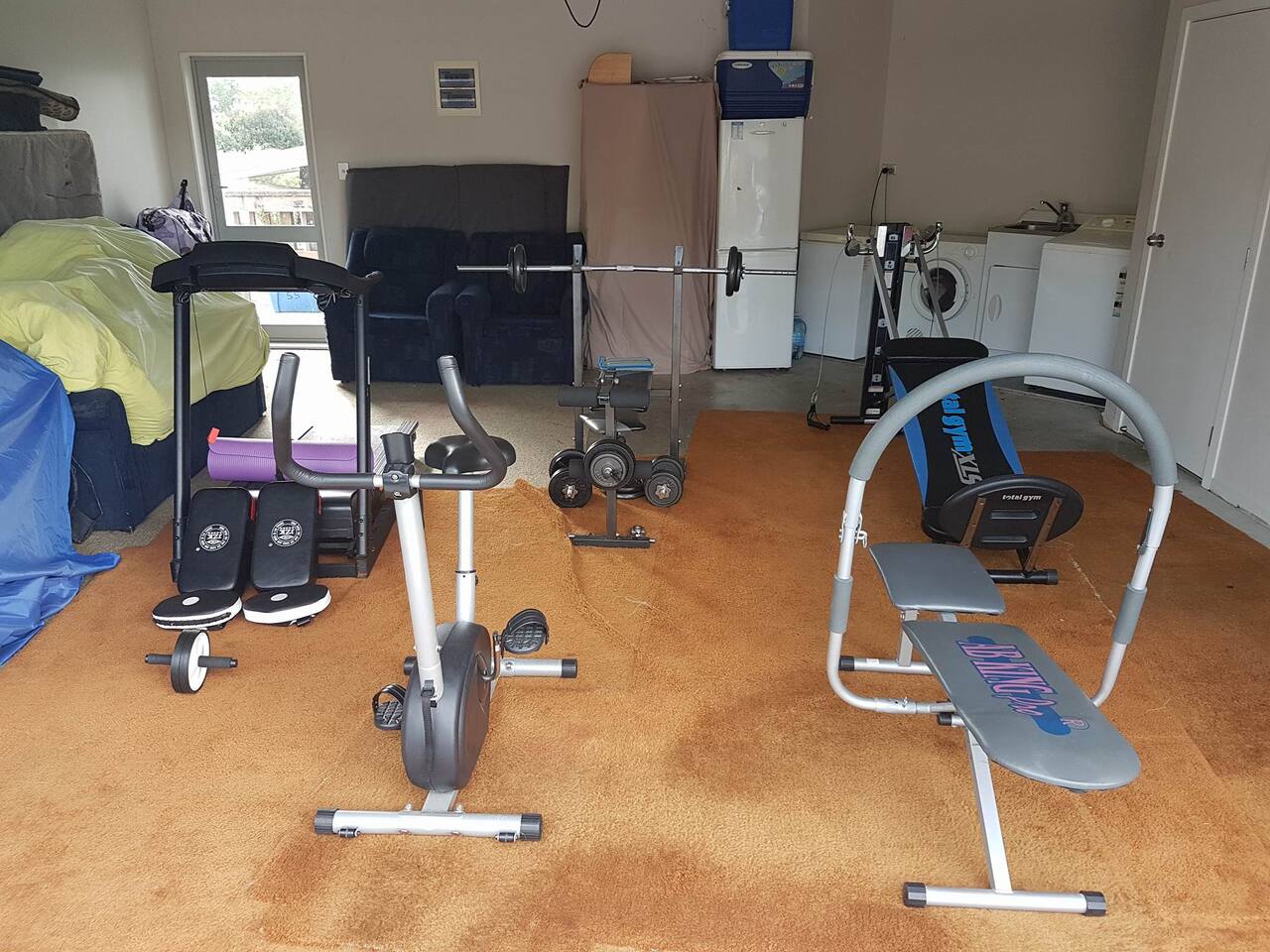 Home gym
For my final night in New Zealand, I decided to stay in the city of Hamilton, which is a midway point between Waitomo where I would go cave diving and where I would be departing the next day in Auckland. Unsurprisingly, AirBNB's gym search came up small, but one option,
Albert's Place
, rose above the crowd for just $29 USD for the night:
Power rack = bench press, overhead military lifts, and squats, and battle ropes = HIIT!! As much as I wanted to deadlift, I wasn't about to crack Albert's garage pavement and alert the neighbors with my banging and grunting. But for $29, I would be able to hit chest, shoulders, and HIIT for 2 consecutive days with full housing. Aside from his home gym, Albert was a great host, and was overjoyed that I was his first and only guest to ever use his home gym. So if you ever stay in Hamilton, consider Albert's AirBNB and be the second to hit his gym!
Bottom line
When searching for lodging with gyms, you don't always have to go with a larger hotel chain to find a suitable fitness facility. Sometimes, a cheap AirBNB option is just as good. Although AirBNB currently does not have a loyalty program, they recently launched a partnership with British Airways where you can earn 3 BA Avios per $1 spent, so be sure to book through
BA's portal
for the points.